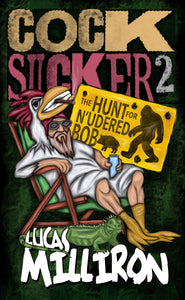 Cocksucker 2: The Hunt for N'udered Bob
Lucas Milliron
Big Sugars toxic fertilizer has caused an outbreak in the cane fields. Vicious mutant iguanas have taken over the farm and spread across the state in a murderous migration. Without his appendage, Curious Ol' Bob's lost both his curiosity and his will to fend off the evil reptile swarm. It's up to Clive and Cooter to get it back. Only then will they have a chance to set balance back to the glades.

Sometimes ya can't choose your friends, but ugly is loyal till the end.