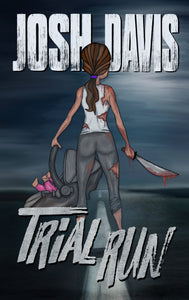 Trial Run
Josh Davis
Sometimes, to beat monsters, you must become one.
Venture through the crime-ridden city of Molder as one mother risks everything to protect her baby.
Margo, a single mother, agrees to housesit for her best friend in a not so friendly neighborhood for a bit of extra cash. Everything is fine until she becomes a witness to a horrendous crime, forcing them into a night of violence, endurance, and above all else, redemption.
Trial Run is also available in Audiobook on Amazon, iTunes and Audible.