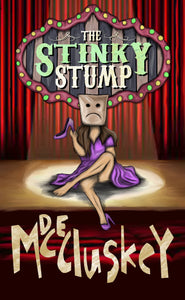 The Stinky Stump
DE McCluskey
Enter the world of The Royal Curtain, Amsterdam's premier gentleman's club.
Here you can have as good a time as your money can stretch. You can watch the dancers, have a private dance, you can take things even further. For the right price you can go to the backstage, where you can meet The Stinky Stump. She is the ultimate good time, a stag legend. Can you last ten minutes with her, if you can you become a legend yourself, and all your drinks are paid for that night.
Can you imagine the kudos you'll receive from all your friends? To the shouts of 'Lick The Stump' stag after stag will step up to test their mantle.
Chrissy is The Stinky Stump. She is a midget sex worker. She doesn't wash, she's covered in absolutely everything nastyyou can think of…
It's all just a laugh.
But how did the legend of The Stump begin? Where did she come from, and how did she get where she is? Are their people out there who care for her, and wonder what has become of her?
The ballad of The Stinky Stump will repulse, and move you in equal measures.
DE McCluskey brings you splatterpunk, but he's giving you a whole lot more too. This tale takes Ozzie's kebabs to a brand new level.